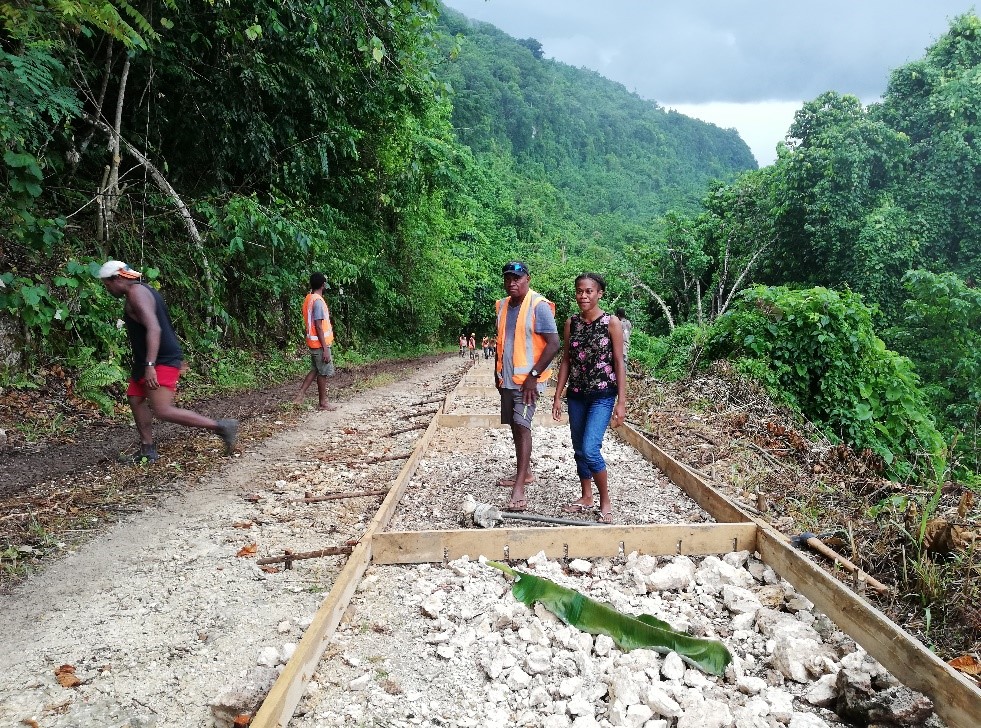 Ruthy Alick at Matantas in Santo checking the contractors work on Concrete pavement
Ruthy Alick, a female Site Inspector for PWDs Sanma Province, improved her capacity and now she's implementing PWDs Work Plan, supervising a Performance based Maintenance Contract in Sanma Province.
Ruthy Alick studied Civil Engineering at Fiji National University. Ruthy was involved in the ApprenticeProgram offered by MIPU/PWD for 6 months in 2019. After completion of the program, she was contracted by the PWD as a site inspector and was transferred to Sanma Province. Her responsibilities include assisting PWDs civil engineer in Sanma with scoping of new roads and preparing costings for estimates and budgets. With the relevant advice received from R4D2 Advisers, Ruthy said "she now understands how the Procument process works whereas previously she had little experience in procurement of works".
Ruthy said she receives helpful advice from R4D2 Advisers on how to prepare contract documents and preparing cost estimates for contract works. She said that with the advice she received she has improved her management skills and increased her confidence as a young woman. This is because "Before I was shy and scared to talk because there are lot of men I am working with, and sometimes the male staff think I am a female and didn't bother to follow instructions from a young woman like me ". With all the advice I receive, I now never look down on myself, I work hard and always determined to achieve my plans".