Public Works Department is dedicated to contributing to the achievement of the national development goals by providing safe, reliable and affordable infrastructure. Primary task of the department is to manage, maintain and develop the major national transport infrastructure assets – roads, ports and airports.
Public Works Department currently manages the entire national road network which consists of nearly 3,000 kilometers of roads in rural and urban areas, while it develops and maintains a number of ports, airports and public buildings.
Public Works Department is aware of the pivotal role it plays in the sphere of the economic and social development of the country. In whatever we do, we therefore aim to embed the principles of equality, efficiency, resilience and sustainability.
The PWD building unit is also responsible for ensuring all new builds, refurbishments and modifications comply with the national building code.
PWD has significant commitments in time of disasters by maintaining access and coordinating the Shelter Clusters.
Our mission is to manage the Vanuatu infrastructure assets that would be a catalyst for the economic and social development of the nation.
Our vision is the efficient, safe, reliable and affordable transport network that serves the needs of the Vanuatu people.
PWD currently operates from seven offices located in the six Vanuatu Provinces. Department employs more than 136 permanent staff.
The services delivered refer to management, planning, design, supervision and implementation of the infrastructure projects. Services are delivered by our own capacity or in partnership with the private sector business entities. In addition to the services related to the infrastructure projects, PWD undertakes road worthiness inspections and operates a materials laboratory.
PWD and the National Sustainable Development Plan
In September 2017, the government launched the National Sustainable Development Plan 2016-2030 (NSDP). The document identified Government vision as "a stable, sustainable and prosperous Vanuatu.". This is a People's Plan, as such, the Ministry of Infrastructure and Public Utilities (MIPU) has the responsibility to serve the people of Vanuatu according to: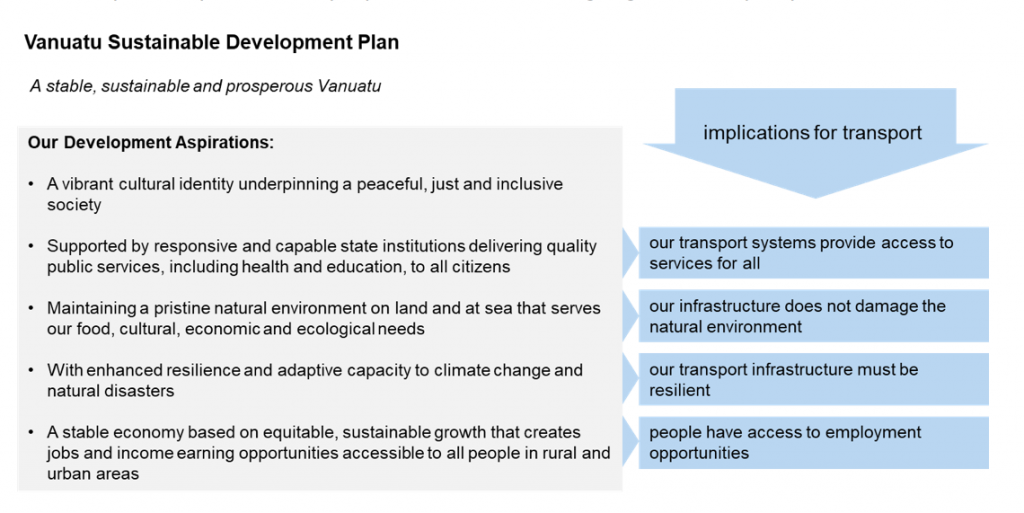 Of direct relevance to Public Works Department within MIPU, are the following NSDP policy objectives:
Ensure that all public infrastructure, including health, education and sports facilities are safe, accessible, secure and maintained in compliance with building codes and standards
Enact clear infrastructure governance, legislative frameworks and standards for resilient infrastructure and maintenance
Improve partnerships and the cost -effective use of resources to ensure sustainable asset management and maintenance
Provide equitable and affordable access to efficient transport in rural and urban areas
Establish effective partnerships that facilitate the development of the private sector and rural communities as service suppliers in the provision of transport and the infrastructure sector
DRAFT 2020 – 2022 MIPU Corporate Plan
Goal 1: A legal and governance framework that provides clear rules governing infrastructure development and operations.

GOAL 2: an environment that allows people to perform effectively

GOAL 3: Infrastructure networks and operations that serve people safely, securely and efficiently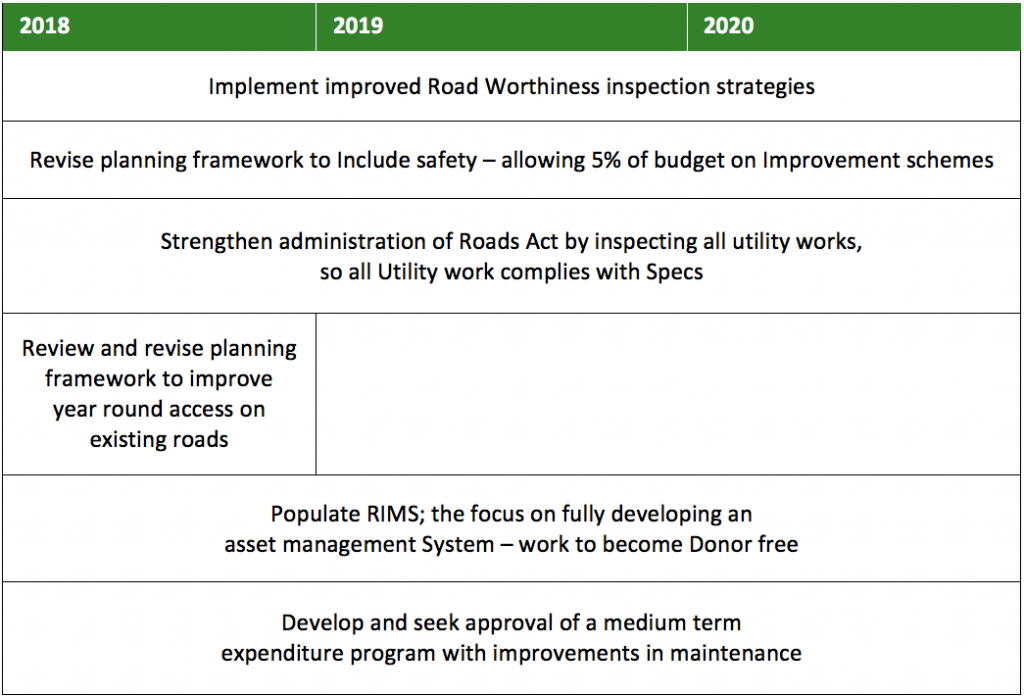 GOAL 4: Maximise benefit to communities through coordination & partnership